Ecology and Conservation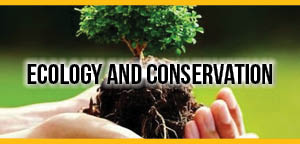 Ecology and Conservation consist of an extensive foundation in Biology and specifically covers the ecology of terrestrial and aquatic environments, the system of evolution and speciation, adaptive physiology of plants and animals, populace biology, molecular ecology, biodiversity, sustainability and conservation issues, and behavioral ecology. Our topic is aimed at understanding the impact of human activities on biodiversity, each within ecosystems and communities, and, genetically within populations and species. We focus on identifying the drivers behind modifications in biodiversity and determine the influences of these changes on ecosystem characteristic and species ecology, interactions, and behavior.
Our cluster is comprised of experts in a variety of taxonomic groups including mammals, birds, reptiles, amphibians, invertebrates, and plants. We apply novel, innovative methods and new technologies in multi-disciplinary approaches, from molecular ecology to social science, to tackle research questions that can be applied to practical conservation biology.
Ecology and Conservation Biology is about the ecosystems across the planet that is under threat, and what we can do to save them. You'll learn greater about the interactions between humans, animals, plants and the Earth's atmosphere, covering topics such as biodiversity, climate change, and environmental management.